Shalom and Shavua Tov dear *|FNAME|*
This is my yearly ritual – even though the Gregorian new year holds no Jewish consequence, writing up a "year-in-review" reflections letter has become a small ritual.
Positioned deep in the South African summer, it is the perfect time to breath, reflect, and with Hashem's help, look ahead.
See the forest for the trees.
I am writing to you all from Cape Town; each one of you a gem and member of the broader Nexus community.
It is an exquisite city for the senses. (A Cape Town retreat, anyone? 🙂
BH the kids are all home, and my husband has taken his first break from teaching Daf Yomi in a long time.
(If you want to find previous years "end of year reflections", visit my blog HERE.)
So I am taking a deep breath.
These are questions I start my review with:
What happened this year for our community?
How have we grown?
What was achieved?
What do we have to be grateful for?
Let's look at it month-by-month and see what unfolded.
I will include all the links for you to go back and fill in anything you missed along the way. Suggestion: read it through once, and then choose what you want to click on to watch or listen. Or bookmark this email so you can come back to it whenever you like, or find it on the web HERE.
January
The year started with a visit from singer and composer, Yonatan Razel (who learns in the Dirshu program which my husband runs here in South Africa. Here he is in our treehouse.)
It was the seed from where this year Summit sprouted.
I interviewed him in my music studio, where he accompanied the orchestral track that I had recorded on my digital software. (Yes, I recorded every single line in the orchestra and layered them all over each other. It sounds real! You can listen to my piano arrangement with the digitally produced orchestra HERE).
In case you missed it, you can watch the interview HERE (free).
February
In February, after three years of build-up and anticipation, the community completed the Rachel and Leah course.
I have no words for the gratitude I feel to Hashem for allowing us to bring this to fruition.
Everything that was foreshadowed and conceived in the Chava course, the first of the Rise! Series, came to its full expression.
We learned about the rising women in the footsteps of mashiach with completely different names (Rachel, Leah, and Rachel HaGedolah).
It's absolutely essential learning for the deep and mystical Jewish woman, and so practical and healing – as everything we had set out to achieve settled into place.
The engagement of the community was amazing.
One of my favourite parts was finding the original Lithuanian sources for these Kabbalsitic ideas, and seeing how absolutely practical they all were in answering the most basic of questions the modern woman is juggling all the time.
(Just a taster: here is a diagram extracted from the Sefer "Pischei She'arim" by R' Yitchak Issac Chaver, student of the Gra).
I don't just have testimonials from you, I have a book of letters.
I am grateful for how you all received this series.
[In case you missed it, contact Darcie and find out how you can enroll. These courses are all pre-recorded now.]
March
In March, while we were still completing the seven sessions of the Rachel and Leah course, we hosted a free Purim shiur, based on the teachings of the Stitchiner Rebbe, called "Purim Sparks". In it, through Esther, we discovered that the secret of redemption is in a woman's hands. May the anonymous sponsor for the shiur see only brochos and yeshuos.
April
For Pesach, we traveled to the states for the chassuna of my youngest sibling, Yehudah Bortz to Hannah Greyman of Baltimore.
One of my highlights was meeting with R' Aharon Feldman, Rosh Yeshiva of Ner Yisrael, Baltimore. (Remind me to tell you the story how I got in). 🙂 His specialty is interpreting the agaric passages of the Talmud, through the cryptic and meaning-laden interpretations of the Vilna Goan). BH he warmly blessed our community, bH (though please note that he does not give haskamos).
May
After Pesach, with the support of my husband (who traveled back to South Africa with the kids in tow), I flew to Mexico to run an immersive retreat in the gorgeous setting of Attessi, a small village a few hours away from Mexico City.
Read the highlights here 🙂
In Mexico City itself, I spoke about the power of a woman's voice, "Shma B'Kolah", about Sarah Imeinu. (Listen HERE.)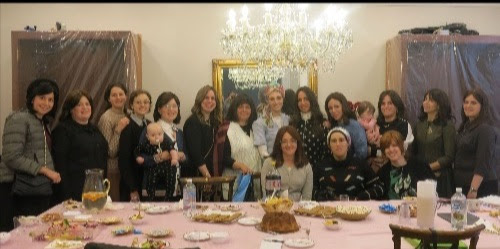 Click to watch the Nexus Reunion highlights video in Staten Island
June
In June, I had the zechus of sharing some Torah from R' Yitzchak Ginsburgh in a pre-Shavuot talk in which we gave voice to words "that have never been uttered" but have been there since the time of the Imahos. It was about defining the "negative space" around masculinity.



Artwork by Dina Kaplan
On the same day, BH, the school hosted another global, free "masterclass" (fyi: a masterclass is a single teaching of around 2 hours with mega-content) about why Shavuot is the festival where two "kings" – (the cosmic feminine and the masculine in creation) will finally share one crown, understanding the meaning of the 50 gates of Binah (understanding) of femininity, and why the luchos themselves represent womanhood (and the matriarchs). This shiur was sponsored generously by an anonymous donor; may she see only blessing in her life.

Watch/listen HERE.
July
In July, BH we were able to provide yet another global masterclass, this time based on the writings of R' Yitzchak Issac Chaver, following on the theme of the luchos – going into the mystical meaning of the letters themselves, and how we can only heal through their power. I got clever this time and invited the machon in Johannesburg, led by Talmid Chacham, R' Avigdor Blumenau to put together the source sheet. (Phew! 20 pages of sources!) We are certainly rising! 🙂



Artwork dedicated by Orit Martin. oritmartin.com
You can listen to the shiur HERE.

All the "holiday-based masterclasses contain fundamental content to the rise of the holy feminine and are applicable all year round!

August
In august, while Summit plans were steeply underway (oh boy!), on Tisha b'Av I delivered a guide to mourning for the Bais Hamikdash (and every pain we feel as derivatives of that ultimate loss). It was inspired by Miriam Millhauser Castle's profound and healing teachings. (You can find all the shiurim on my website or torahanytime.com).
Just after Tisha b'Av, I was interviewed by Nexus member, Chany Felberbaum, on her Secrets of Intimacy Summit. I did my very best to portray the essence of tznius (modesty, the flip side of intimacy and therefore key for understanding it) and some other core ideas to the holiness of marriage. Chany has kindly shared the recording with me HERE.
At the same time, after years of work (mainly before I opened the school), I worked together with editors and typesetters to produce a translation of the first 19 chapters of Sefer Ohel Rachel, based on the teachings of R' Moshe Shapiro ztz"l. (I'll send out an official email about this another time – you can purchase the translation HERE.). Thank you to all the donors who made this possible.
Here is a picture of my son Shlomo Yosef on the day of his Bar Mitzvah, with author of the Hebrew work, R' Schlanger, of Yerushalyim.
September
I know you might not think you're an artist, or a singer, or a writer. But the Arts & Creativity Summit was FOR EVERYONE.

It was the deep Torah of creativity – and we are at our most creative when we are molding ourselves to be servants of Hashem, fashioning our families, and using our talents to bring love and joy to the world, honour to Hashem's Name in a million different ways. My favourite part of the summit was working together with ATARA.

Below is the Summit Season III highlights video!!!! (from the Torah portion of the Summit. The Arts and Creativity highlights video is still under wraps!)

The effects of the Summit are still rippling… and rippling…

The 10 day summit – with over 60 teachers, leaders, healers and artists – is now for sale. Your purchase helps to offset some of the huge expenses of operation!
Bringing the Arts our of Exile. Rise! into your Crown World Summit for women, III HIGHLIGHTS
Then, the 10th and final day of the Summit overlapped with timing of the Siyum of the first complete cohort for the Rise! through the Imahos Series.
And it was FREE! You can still watch it HERE.
You will be blown away meeting the members of the community as they shared from the depths of their souls.


October
Wow. Yamim Noraim came and went… and it became time to enroll new women into the second cohort of the flagship, essential Nexus program, Rise! Into your Highest Feminine through the Imahos Series.
I'm not sure if we'll be doing this again… but we offered a whole month FREE of the course.
What's incredible is that this year, in addition to the 20 graduates/mentors who are selflessly devoted to supporting the new students, we began the Ambassador program.
In this program, BH major cities around the world are served with a Nexus representative, to host live, periodical meetings so that course participants of the Rise! series can meet each other and share their experiences of the learning.
The cities featuring Nexus ambassadors are: Atlanta, GA | Baltimore, MD | Boro Park (Brooklyn), NY | Boston, MA | Detroit Suburb, MI | Far Rockaway, NY | Highland Park, NJ | Houston, TX | Kiryas Joel, NY | Lakewood/Toms River, NJ | Los Angeles, CA | Manhattan, NY | Miami, FL | Monsey, NY | Montreal, CAN Maine | Passaic, NJ | Seattle, WA | Waterbury, CT | Phoenix, AZ | Staten Island, NY | Jerusalem, ISR | Neve Yaakov – Jerusalem, ISR | Nachlaot – Jerusalem, ISR | Haifa, ISR | Beitar Illit, ISR | Modi'in Ilit and Vicinity, ISR | Ramat Bet Shemesh A, ISR | Tzfat (Safed), ISR | Johannesburg, SA | London, UK | Mexico | Sydney, AUS | Zurich, Switzerland
Chasdei Hashem. (please email us to hook up!)
[Although Rise! starts officially once a year, the shiurim are available all year round, at the school and on our phone line for those who choose to not to have internet-access. If you are interested in joining the school, please reach out to our registrar Darcie for assistance HERE. P.S. We are starting Sarah – rising through marriage and relationships – next week! Stay tuned for more details.)]


November
In November, the Chava course was well underway, where we build you up, step by step, to receive this feminine Torah, with the guidance of our Rabbanim.
Incredible conversations started happening on our community forum of growth, exploration and application.
At the same time, I was asked to present as a Geulah unity event on the yartzeit of Rachel Imeinu. I went deep into the question about the prohibition about "pushing the end", prematurely precipitating the redemption as brought in Shir Hashirim (with some help from R' Shnayor Burton). You can watch/listen to it HERE: Understanding the Oath we were evoked to take to not push the redemption.
December
As the school year comes to a close in South Africa, and I go into a period of rest and inward focus, I invited our first additional teacher to the Nexus faculty. (If you have other ideas of who you would like to see featured please let me know :). R' Yaakov Zalmon Labinsky is truly holding a piece of all this and in an incredible, clear way, filled with heart, brings it straight home in his teaching style. Just today he delivered a free shiur about the 10th of Teves (sign up to watch the recording HERE).
Just this past week, the school completed the Chava course and is getting ready to progress to the hidden secrets and depth of Sarah Imeinu. We shared a powerful and intimate time together as we get together to unpack, debrief and share about the powerful shifts that women experienced during the Chava course. Although this is technically closed, just today I will make the recording open so you can feel the warmth on the inside! (So start with this as it will come down!)

Watch the Live Closing Session of the Chava course HERE to see exactly where the community is up to, now!
All our shiurim come with phone-line access. To listen to any of the above, see the phone details below.

* * *
Oh! And I forgot the incredible interviews through-out the year!

I loved being on Chana Deutch's With All your Heart Marriage Summit, speaking about the Woman of Valour (Aishes Chayil) on the America's Top Rebbetzins Show, talking with Devorah Spilman on The In-Story Show (this is for a universal audience – watch/listen HERE), and speaking for Jewish Workshops in Elul on the topic of Teshuva as Healing (click HERE).

As I am writing this… my family is on their way up Table Mountain so I must run – I'm going to join them…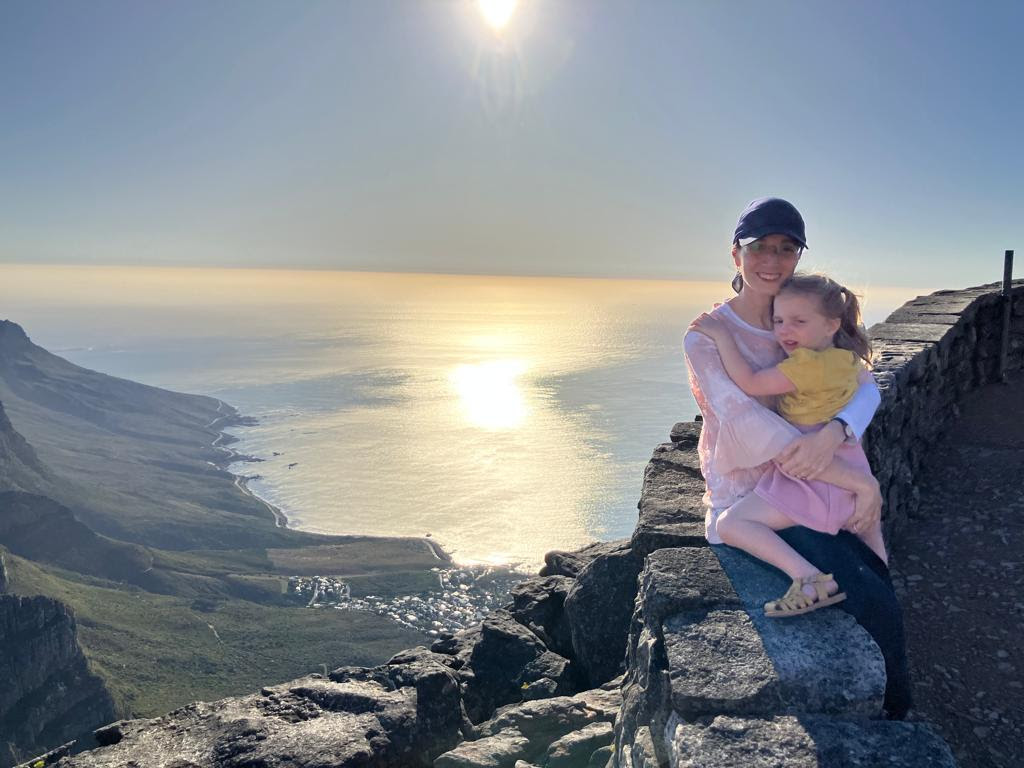 I just wanted to thank you all for being here, showing up, being brave with your questions and sharing, staying on task, and your love.
As I recover from the intense effort of the year, I would like to end with an appeal.
Please help us continue to spread as much Torah as we can this coming year, as the school grows to include other teachers, and as we conceive our next programs, summits, shiurim, books and courses.
Your sponsorship means so much to us, and to me.

There are many women who can't afford the school tuitions and we want to be able to create a fund for them, and to support our growth.

May this 10 Teves be a turning point from darkness to light, from exile to redemption, from isolation to love and connection.

Sharing my love and gratitude with you all,

PS: Please let us know if you would like your donation to come with a dedication for the merit of loved one. Please email your dedication for the coming year here.
Phone Line Info
Israel: +972722587786
UK: +443301170398
US: 718-330-2515
7 – Free classes
7.7.28 Staten Island Nexus Gathering May 2022
7.7.31 12 min Nexus Reunion Highlights
7.7.32 Receiving our Feminine Torah – Nishmat Group
7.7.33 Ultimate Shavuos Preparation 2022 – Stitchener
7.7.34 17 Tammuz – Rav Yitzchak Chaver – 17 July 2022
7.7.38 Co-Create Yourself Anew this Year- Teshuva as Healing Sept 17 2022
7.7.43 Rabbi Labinsky Chanukah Dec 19 2022 Illuminating Existential Aloneness Towards Ultimate Connection
7.7.44 Rabbi Labinsky Dec 26 2022 Understanding and Experiencing the Mystical Secrets of Zos Chanukah
7.9.10 Summit – The Siyum (day 10)
Listener instructions:
Return to previous menu: Press *
Repeat current prompt: Press 0
Rewind 15 seconds: Press 1
Fast forward 15 seconds: Press 3
Pause: Press 2
(Resume listening while pausing press 2 again)
Rewind 1 minute: Press 4
Fast forward 1 minute: Press 6
Rewind 5 minutes: Press 7
Fast forward 5 minutes: Press 9
Louder: Press 5
Softer: Press 8
To save a bookmark, press 0.
To recall a bookmark, press #.